House party raises $13k!
6/17/2013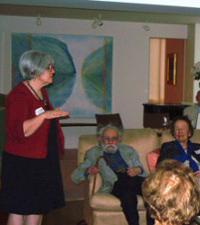 We raised $13,000 at a private house party hosted by Carol and Jack Kline, Cambridge, MA on 6/6/2013 (also Arthur's 88th birthday)! Guest speakers included Katherine French, Head of Danforth/Art, Framingham, Richard Baiano, Owner of Childs Gallery, Boston, and Herb Grey, collector.
This is a great step towards reaching our post-production funding goal, but we still have a way to go to. Please click here to offer your support with a tax-deducible donation.