Arthur's two major solo exhibitions!
3/10/2013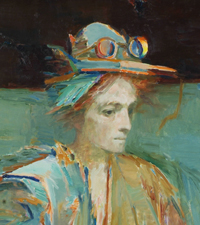 Currently on exhibit at the Childs Gallery, Boston, is a major Arthur Polonsky retrospective exhibit. The gallery was packed for the May 1st reception, which included a screening of scenes from Release from Reason. To see a gallery of artwork from the show, CLICK HERE. To read a review of the show, CLICK HERE.
Arthur Polonsky: Unmasked, another retrospective of Arthur's paintings, drawings, prints, and sculptures is on at the St. Botolph Club, Boston, through March 25th.